EasySite Website Builder makes web design quick and easy. Just follow the simple steps to create your own site and publish it on the Internet in just a few minutes time. You can create well designed homepages with standard features, photo albums, Flash intro movie, Feedback Forms and more.

EasySite Plus is an upgraded version of EasySite including full functions : all standard Features plus Map and driving directions, photo albums with password protection, Shopping cart. More than 200 design templates. EasySite Plus is an upgraded version of EasySite available with all hosting plans except shared basic plans.

With Easy Site, there is no software to download, no programming language to learn and no hassle in getting your business online quickly.

How It Works

Create your web site in a few simple steps

1. Choose a category and template design
Click through 100-200+ professionally designed web site templates and find the one that best reflects your business identity.
2. Select graphics
Review Easy Site's graphic library and pick the graphic you like best, the font size and color, and type of navigation buttons. Upload your logo to complete your design.
3. Edit content
Write the content for your site using a simple text editor, or cut and paste text from an existing document, create tables and lists, insert graphic elements - Easy Site formats it all for you.
4. Add extra features
Make your site truly your own with extra features such as a flash animation introduction, photo galleries, feedback form, counter, location map, and more.
5. Go live
When your site design and content are complete, just click 'publish' and you're up and running on the Internet.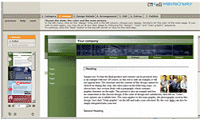 EasySite is available in both standard and plus version. See plan comparisons below.