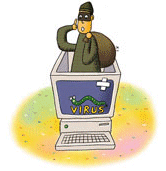 Data and network security in small businesses is a largely grey area for many owners and managers without specialized expertise.  Basic concepts such encryping wireless connects and using passwords on devices and in programs has become common knowledge.  Most busineses understand that they should be backing up data also.  However, network security has many more levels of complexity than those few simple manadates.  So, what steps should you take are both simple and instanly effective?
1. Inventory of Authorized and Unauthorized Devices
2. Inventory of Authorized and Unauthorized Software
Deploy an automated asset inventory tool that both scans designated IP address ranges and analyses traffic to identify devices and software. You can't secure your network unless you know exactly what hardware and software is running on your network.
3. Secure Configurations For Hardware and Software on Laptops, Workstations, and Servers
Remove games, hyperterminals and "crapware" that comes bundled with many end user machines, and unnecessary software on servers. If you need six applications on a machine, then there should be six, not twenty. Ideally, deploy standardized images, and document whenever a non standardized image is used for any reason.  We have three words:  standardize, standardize, standardize!
Continue Reading >>