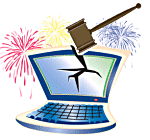 Presented by Launch Pad CEO, Ilene Rosoff, this webinar is focused on the 4 points of a complete business continuity solution. Ilene will reveal methods that are simple and cost effective to implement and guaranteed to work every time.
How long could your firm survive without access to critical data? Does your backup strategy really meet compliance and data security standards?
During this webinar you will:
Learn the 4 key elements needed to successfully create a complete, bulletproof business continuity and data protection strategy - that fits the budget!

Find out why tape backups are not effective

Uncover existing vulnerabilities that put your firm at risk for lost productivity or data compliance issues and identify cost-effective solutions to eliminate those risks.

Discover how to implement a complete business continuity solution that will cover server downs, loss-of-site, file corruption or just simple user error.

It's like an insurance policy for your business!