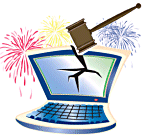 Our Legal Client Solutions Specialist will be in touch within 24 hours to schedule your Free Data Protection & TechLaw Efficiency Audit.

If you require immediate assistance or technical support, please contact us at 813-448-7100 x1 or if you would like to speak with a Client Solutions Manager to discuss your technology or web needs sooner, please call 813-448-7100 x210

.





To learn more about the legal technology services The Launch Pad offers, I invite you to visit our TechBytes Blog or the Resource Library to view our TechEd Webinars and White Papers.


For more information contact Megan Meisner, mmeisner@launchpadonline.com or 813-448-7100 x210 .

Twitter

Linkedin

RSS

Free Newsletter Signup
Zero2Sixty TechBytes

Receive expert IT advice, moneysaving tips and informative articles on computer, web and IT solutions simplified for non- technical, small business owners and managers.