Microsoft Office Features and Benefits

People and organizations are unique, and so are their challenges and needs. With the enormous power and flexibility of the 2007 Microsoft Office system, you can meet your own particular challenges and those of your organization.

To make it easy to get the features and capabilities that will help your organization meet its challenges, Microsoft offers a variety of suites to address a diverse range of needs. Whether you are a home user or work for a multinational corporation, the 2007 Microsoft Office system has a suite to help you and your organization work more effectively. Click here to see what suite will meet your needs.
The New Office Interface

Benefits
The goal of the new Microsoft Office user interface is to make it easier for people to use Microsoft Office applications to deliver better results faster. We've made it easier to find powerful features by replacing menus and toolbars with a Ribbon that organizes and presents capabilities in a way that corresponds more directly to how people work. The streamlined screen layout and dynamic results-oriented Galleries enable users to spend more time focused on their work and less time trying to get the application to do what they want it to do. As a result, with the new Microsoft Office user interface, people will find it much easier and quicker to produce great looking documents, high-impact presentations, effective spreadsheets, and powerful desktop database applications.

Key Features
While the overall look of the redesigned applications is new, early testing indicates that people quickly feel at home in the new user interface and rapidly become accustomed to the new way these applications work. The ease with which people use the new interface is due to the simplicity of the new interface features. Back to top



The Ribbon
The traditional menus and toolbars have been replaced by the Ribbon — a new device that presents commands organized into a set of tabs. The tabs on the Ribbon display the commands that are most relevant for each of the task areas in the applications. For example, in Office Word 2007, the tabs group commands for activities such as inserting objects like pictures and tables, doing page layout, working with references, doing mailings, and reviewing.

The Home tab provides easy access to the most frequently used commands. Office Excel 2007 has a similar set of tabs that make sense for spreadsheet work including tabs for working with formulas, managing data, and reviewing. These tabs simplify accessing application features because they organize the commands in a way that corresponds directly to the tasks people perform in these applications. Back to top

The Microsoft Office Button

Many of the most valuable features in previous versions of Microsoft Office were not about the document authoring experience at all. Instead, they were about all the things you can do with a document: share it, protect it, print it, publish it, and send it. In spite of that, previous releases of the Microsoft Office applications lacked a single central location where a user can see all of these capabilities in one place. File-level features were mixed in with authoring features.


The new UI brings together the capabilities of the Microsoft Office system into a single entry point in the UI: the Microsoft Office Button. This offers two major advantages. First, it helps users find these valuable features. Second, it simplifies the core authoring scenarios by allowing the Ribbon to focus on creating great documents.

Contextual Tabs
Certain sets of commands are only relevant when objects of a parti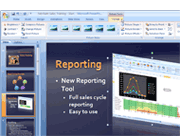 cular type are being edited. For example, the commands for editing a chart are not relevant until a chart appears in a spreadsheet and the user is focusing on modifying it. In current versions of Microsoft Office applications, these commands can be difficult to find. In Office Excel 2007, clicking on a chart causes a contextual tab to appear with commands used for chart editing. Contextual tabs only appear when they are needed and make it much easier to find and use the commands needed for the operation at hand.


Galleries
Galleries are at the heart of the redesigned applications. Galleries provide users with a set of c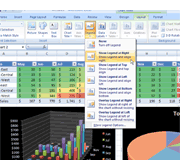 lear results to choose from when working on their document, spreadsheet, presentation, or Access database. By presenting a simple set of potential results, rather than a complex dialog box with numerous options, Galleries simplify the process of producing professional looking work. The traditional dialog box interfaces are still available for those wishing a greater degree of control over the result of the operation. Back to top
Live Preview
Live Preview is a new technology that shows the results of applying an editing or formatting change as the user moves the pointer over the results presented in a Gallery. This new, dynamic capability streamlines the process of laying out, editing, and formatting so users can create excellent results with less time and effort. These elements are just a few of the new technologies that combine to create the new Microsoft Office user interface.