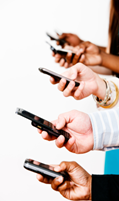 Is your company ready for the paradigm shift that is occurring with our relationship to technology, both personally and within organizations worldwide? Technology has become ubiquitous, vastly accessible and almost prosthetic thanks to the Cloud, smart devices, apps, virtualization and a host of integrations that change the way small business automate.

Join us as Launch Pad CEO, Ilene Rosoff kicks off the new year with our, "New Trends and Technology for the New Year", the first of the 2012 RevITup TechEd™ Series. The spotlight will be keenly focused on our must-know predictions, hot trends and sinkholes to avoid in your 12-month technology future. We will lay bare the game-changing opportunities and must-do strategies for identifying the best trending technology to take your business to new heights in 2012.

Complete This Form To Download Our Webinar:


Take a Sneak Peek at Some of the Highlights:
Cloud Integration:

Understand why Cloud Integrators, not just "Cloud" services, will be the real key to shedding your hardware and moving toward "deskless" and resourcing reducing technology.


Cloud Recovery:

Learn how new affordable, Cloud-based, business-class backup solutions now make disaster recovery both data protection and a deliverable service.


Mobile Device Management:

Should your company embrace a BYOD (bring your own device) technology strategy and how does this trend impact your business, security and the bottom line?


Blue Skies, Green Clouds?

Find out how "Going Green" not only reduces technology spending but paves the way for "deskless" Cloud-based technology.



For more information contact Megan Meisner, mmeisner@launchpadonline.com or 813-448-1700 x210.