RevITup™ BDR data backup and disaster recovery series offers total data protection with our complete data backup service for every server on your network. Avoid unreliable tape backups. The Launch Pad's managed data backup system includes both real-time onsite backups integrated with our offsite data backup service - all for one low monthly fee.
Free Data Protection Assessment




Free Newsletter Signup

Receive expert IT advice, moneysaving tips and informative articles on computer, web and IT solutions simplified for non- technical, small business owners and managers.

Land Precision Corporation


When our server crashed after a lightening hit to our building, we called Launch Pad for help. Their team arrived at our office within an hour and remained on site for two days. As a managed backup services client, we were up and running on our standby server within a couple of hours. They installed a new server on the network, and were able to recover all of the information from the crashed server. This saved us thousands of dollars and many man-hours.

Thanks to The Launch Pad's Managed Business Continuity Solutions, instead of experiencing a major disaster, our business was able to continue with barely an interruption.

~ Vince Corbitt


President, Land Precision Corporation
www.landprecision.com
More Resources on Data Protection


Bulletproof Your Data - Don't Gamble with Your Business
Featured White Paper
download now


The New Worry Free IT: Managed IT Services is Paving the Road to Small Business Success
Featured White Paper
download now


Our BDR (business continuity solution) backs up in realtime every 15 minutes onsite and offsite, restores a single e-mail or an entire server and even acts as a fully functional standby server in the event your server is down.

Want To See How This Complete Protection Solution for Your Business Works? View the Online Overview Demo >>

Then, Say Good to Tape Backups forever.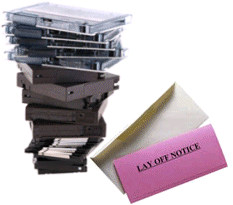 With the falling prices of disk arrays and the stability of the medium, the days of tape and tape drives will end soon. Tape is a linear medium and backing up to tape is a time consuming task. Unlike the tape drive process, a disk backup system can be monitored and managed 24/7 by The Launch Pad so your business and employees don't have to take on those tasks.

Near Real-time Backups. The "Incremental Forever" methodology used by RevITup™ BDR Business Care captures all changes to the initial server disk image in 15-minute increments. This allows end-users to reconstruct the state of their data at any of those 15-minute restoration points. This level of forensic and auditable data recovery may satisfy various regulatory requirements -- including HIPAA and GLBA -- for data retention and data record reconstruction.

Onsite Virtual Stand-by Server. Should any of your servers fail, our server virtualization technology embedded in the NAS device allows your servers and applications to be restored and rebooted within a few hours. Rather than wait days for replacement parts for your server, your NAS can get your business up and running quickly.



System Administrators may also want to view the Technical Overview to gain an understanding of configuration, offsite transfer and standby server virtualization (all fully managed by our staff)

A Complete Image of Each Server. We generate an image of all hard drive partitions via an agent on the NAS device at your location. This data is written at block level, via a block transfer, to remote servers. Block transfer is the most efficient way to write to disk and is much less prone to errors that result from file-level backups. Your database applications such as Microsoft SQL Server and Microsoft Exchange Server are safer and easier to replicate after block transfer should a disaster occur.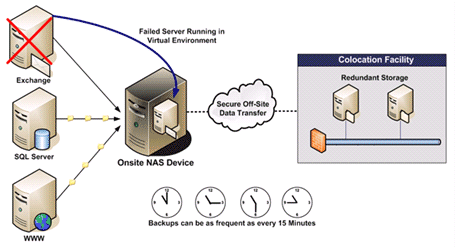 Intuitive and Flexible Restoration. We test restoration at the outset of the installation of RevITup™ BDR Business Care to ensure correct processes and results in a subsequent data restoration event. RevITup™ BDR Business Care employs a quick and intuitive restoration process that can support a bare metal restore to new hardware with a different configuration, hardware or drivers from your current server.

Secure Remote Storage. After imaging the servers to which it is attached, the NAS device creates an independent 256-bit encryption tunnel and transmits the imaged data to our secure offsite location, where it is stored in an encrypted, compressed format. That remote site then replicates again to an alternate data center in yet another location, creating a total of three copies of your critical data in three geographically distinct regions.

Adaptive Bandwidth Throttling. Transmission of your encrypted data occurs over your current Internet connection and is configured by The Launch Pad to minimize bandwidth consumption. Adaptive Bandwidth Throttling relies on unused bandwidth within your current connection to provide the minimum slowdown to your Internet Connection.

RevITupTM Business Care Managed Service FAQ

1. Q. What size organization can benefit from the RevITup™ Business Care Program?
A. Any size organization can take advantage of the many benefits. Typically organizations with 5 desktops or more will reap the terrific benefits and savings. We do have a special plan designed for one-person organizations. Contact us for details.

2. Q. Is there a commitment time for the RevITup™ Business Care agreement?
A. The contract is renewed on an annual basis and we do request your commit to 3 months so that you can properly evaluate the benefits and we have to completely tune up and standardize your network. You can cancel after that time with 30 days notice.

3. Q. Besides knowing that all of my devices are being monitored and managed, what other benefits does my organization enjoy?
A. Our RevITup™ Business Care clients receive guaranteed response time and priority service when support or project work is needed. RevITup™ clients also received discounted support and project work, B2B web online store discounts, included help desk and onsite support, Microsoft updates and patch management, technology planning sessions and executive summary network health reporting. Backups, services, hardware, software and errors are monitored EVERDAY and Antivirus and Antispyware licenses are included FOREVER. No more costly annual renewals!

4. Q. What if we already have an IT manager or IT department?
A. That's great. RevITup™ Business Care Basic is actually designed for organizations that have internal IT staff. We can still provide all of the backend monitoring and management features, Antivirus and Antispyware licensing and much more. Plus, we can make our monitoring tools, which include asset management and details on each workstation and server, a graphical view of each device on the network with its condition and one-click integrated remote login, available to your IT manager or department. It will significantly reduce costs and downtime and simplify IT for your organization. Instead of putting out fires, your IT staff can concentrate on technology projects that benefit your bottom line and improve your business processes.

5. Q. What's the process when a problem is discovered on our network, server or workstation?
A. All of our RevITup™ Business Care clients are monitored 24x7x365 via our software tools and network operations center. When any problem or error condition is detected, an alert is immediately generated to our monitoring software portal and remediated remotely by our support technicians. Any critical issue also results in an automatic page to a field services manager. The condition is remotely remediated and when the condition is returned to normal, the alert is closed. The idea is to resolve many little issues as they occur before they turn into big problems on the network or the system. If a condition requires onsite support or user intervention, our team will notify you immediately. All support incidents are tracked in our online system accessible to you at any time. Plus we can proactively run maintenance through our tools as well. For example, system defrags and temp file cleanups are scripted to run on a regular basis.