Thank you for your Domain Registration, Transfer request or DNS change request

A confirmation and invoice, if applicable, will be sent to you when your registration or change request is completed. Please be advised that DNS changes can take up to 48 hours to propagate on the Internet. Domain name transfers can take 7-10 depending on your current registrar. New domain registrations are activated quickly, usually within 24 hours. If you have any questions or need additional assistance, please feel free to contact our office at 813-448-1700 extension 0.

If you would like to add your newly registered domain (s) to one of The Launch Pad Hosting Accounts, click the "Choose a Hosting Account" button below.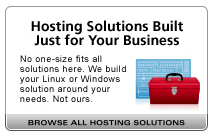 If you require immediate assistance or technical support, please contact our dispatch line at 813-205-6131.

Please feel free to continue shopping or exploring other areas of our website.