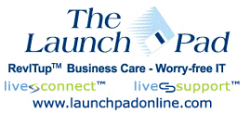 ODESSA, FL (PRWEB) October 15, 2009 – The Launch Pad, a leading Florida-based technology provider and sponsoring member of the International Legal Technology Association (ILTA) specializing in managed technology services and business continuity solutions for small and medium sized law firms, today announced the national release of a core group of fixed-fee, managed technology service solutions designed for the legal market.
"Despite these difficult financial times, many small and medium-sized law firms are using their ingenuity to find ways to grow and prosper. For small and mid-sized firms that want to survive and thrive in this challenging climate, properly managing core technology systems which house and protect the lifeblood of the company is a key factor in success. Poor technology management can be devastating to a small law firm, particularly if data loss is involved," explains Launch Pad founder and CEO, Ilene Rosoff.
The Launch Pad's new RevITup™ Legal Business Care Series is the convergence of 24x7x365 remote monitoring and automated error remediation, integrated online ticketing, an expert help desk and strict business processes designed for the unique needs of law firms. These tools are managed by specialized and certified engineers to optimize network performance, eliminate user downtime and bulletproof data. Rounding out the Business Care Legal Series is RevITup™ BDR, a hosted remote and onsite managed backup solution and WebSentry™ Managed Internet Security Series for managing internet traffic and monitoring user web activities. The result is a complete technology solution for law firms that does not require a large up-front investment.
RevITup™ Legal Business Care Series: By engaging the Legal Business Care Series, attorneys are ensured a consistent level of service at a predictable monthly cost, eliminating the need to hire expensive outside contractors or IT staff. Desktops and servers are monitored 24x7 and optimized through automated problem correction, routine preventative maintenance and patch management. Expert help desk is available for attorneys and support staff. For the law firms, this translates to a greatly reduced total cost and a host of other key benefits:
Increased focus on the practice instead of technical problems with technology

Information Technology best-practices specialized for the legal business

Guaranteed availability of case management resources and client records

Attorneys and remote users have 100% mobile access to email and data

Elimination of unbilled hours that occur when attorneys have to rely on manual tracking

Guaranteed access to critical documents and information and meeting of critical dates in the litigation process, depositions or court dates.

RevITup™ BDR – Backup & Disaster Recovery Series, an affordable hosted, managed backup and disaster recovery solution, includes automated backups, stand-by server capabilities and easy file or server restorations. Mission-critical data is protected real-time, with block-level backups every 15 minutes to an onsite "RevITup™ BDR" storage server as well as real-time offsite backup to redundant data centers. The solution also incorporates remote failover to "standby server" mode. Within minutes, in the event a server fails, the Launch Pad team can have your firm up and running in "standby" mode. Every element of the solution is managed and monitored 24/7 by our expert help desk.
Breaking Technology Barriers –RevITup Legal TechEd Series™
To help keep firms and IT staffers educated on the most pertinent technology topics, The Launch Pad hosts regular webinars and seminars, providing in-depth information on technology tools and resources impacting the legal industry.

So how do smaller law firms replicate the quality of an enterprise-level IT infrastructure with the limited budget and resources? "With advances in technology, especially the Internet, the concept of having an MSP (managed service provider) manage a firm's IT environment from a remote location not only reduces IT staffing needs and staff performing IT support functions, but can also give small and medium-sized firms the opportunity to leverage more sophisticated technologies than if they had to run the functionality in-house.", offers Rosoff. "With our RevITup™Legal Business Care Series, the goal is to provide a comprehensive technology package, at a fixed cost , reducing overall IT expenses by as much as 50% and insuring the firm's technology systems function optimally IT is the competitive advantage law firms need to succeed."

About The Launch Pad
The Launch Pad is a leading managed IT services provider to small- and medium-sized businesses and nonprofit organizations. By delivering premier, fixed-fee managed IT infrastructure, data protection and software services; The Launch Pad offers a smart, worry-free way to plan and manage technology and web systems. With The Launch Pad's technology expertise and integrated team approach, businesses gain vital competitive advantages — increased productivity, enhanced infrastructure reliability, protection for crucial information assets and freedom to focus on your core business. The Launch Pad's credo; You pursue your vision, we'll manage the technology.
For more information, visit www.launchpadonline.com.
Press Contact
Megan Meisner
Director of Marketing & Business Development
813-448-1700 x210
Fax: 813-920-0769
mmeisner@launchpadonline.com
articles@launchpadonline.com